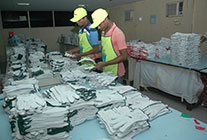 At Industrial Safety Products Pvt. Ltd., we believe that our infrastructural stability has practically made us the largest Personal Protective Equipment (PPE) manufacturer in India. We are not just a leading manufacturer in the leather industry but also the largest exporter having a vast clientele all over the globe. The infrastructure and technology are updated at frequent intervals, and now our factory has a manufacturing capacity of 40 million pairs of gloves annually. Our infrastructural facilities have made it possible for us to deliver quality products according to international standards and demands.
We value the reputation earned by us through the years and take all necessary measures to maintain it by providing high-quality leather goods in our 60 million sq. ft. of leather manufacturing unit. Having more than 2 decades of experience in the competitive market of leather and industrial garment industry, we make use of the most advanced infrastructure. Few of our equipment include 200 ATOM hydraulic clicking presses, singer sewing machines, and packing machines, dehumidifiers, industrial air conditioners, metal detectors etc.. Even our professionals are well-equipped with the skills and expertise required to efficiently handle those advanced equipment.
"Willing To Know More About Our Infrastructure? Feel Free To Browse Through Our GLOVES And TANNERY Pages"