Gloves Factory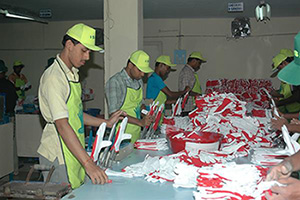 If you are looking for a reliable glove manufacturing company providing best quality products at affordable prices, Industrial Safety Products Pvt. Ltd is the name to trust. Being India's largest leather work glove manufacturer & exporter, we have a vast clientele satisfied with our services. Raw leather after being processed in our tanneries is transported to our glove factory where the leather is cut & stitched and the ready gloves are then packed for export. Not only do we make use of the latest infrastructure in our factories but the 400 sewing machines used by our competent workers have been imported from SINGER & BROTHER of Japan, while the 175 hydraulic clicking presses are sourced from ATOM of Italy.
All our glove factories are under the same roof situated in Kolkata. We manufacture gloves that conform strictly to CE norms and meet or exceed other equivalent international standards. All our products & raw materials are tested by certified testing bodies and have also received certification for CAT I / CAT II levels for many of our customers. So with gloves manufactured in our factories, you can have complete peace of mind.
Our Workforce – Our Pride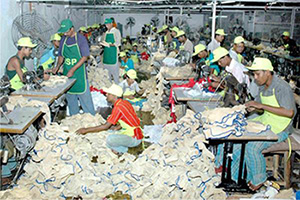 We take much pride in stating that the workforce employed at Industrial Safety Products Pvt. Ltd is professionally trained, disciplined, and highly skilled. They can seamlessly execute glove production under working conditions conformed to the worker's health and safety guidelines. We take utmost care to keep away child labor and other similar anti-social practices from our glove factories.
The total production capacity in these units is more than 32 million pairs of gloves per annum and we believe that our infrastructure and capable workforce has been the prime reasons behind this. We value our clients and make sure to keep a large stock of more than 3 million sq. ft. of gloving leather of different types. This is primarily done so that we can supply our clients premium qualities of gloves in large quantities even at a short notice.
Few Features Of Gloves Manufactured By ISP
High flexibility
High quality
Comfortable
Tanned to enhance durability
Smooth and soft
Foldable
Take shape of the wearer
Long lasting, and many more to count.
Why Opt For Gloves Manufactured In Our Factories?
Being an ISO 9001:2015 certified Indian leather glove unit alongwith ISO 14001:2004, OHSAS 18001:2007, SA8000:2008, we manufacture genuine products in appropriate circumstance.
The largest manufacturer and exporter of industrial leather gloves in India.
The popularity of our gloves has enhanced immensely during the last few decades in the international market.
All varieties of gloves are manufactured by our trained workforce using latest machineries,& technologies.
We value the reputation earned by us and maintain it by producing best quality gloves for our clientele throughout the global markets.
We believe in continually improving our products and deliver those within the specified deadlines.
Aim at establishing and maintaining a long-term relationship with each and every client.
"Contact Industrial Safety Products Now To Know More About Our Glove Factories" and leather Tanneries.