Company Profile
Having almost 2 decades of experience, Industrial Safety Products Pvt. Ltd (ISP) is now a globally renowned manufacturing company engaged in producing high-quality leather safety products. Having its inception in the year 1998 by the founder, Mr. Gopal Kumar Naredi, the complete focus of ISP has primarily been on manufacturing the highest quality products and services for our customers. We believe that the appreciation and goodwill which our valuable customers have showered upon us from all over the world, has been one of the prime reasons behind our success so far.
Our sincere efforts to keep up with the requirements of our clients have made us the most preferred names among our peers. We take much pride in stating that our sound infrastructure with state-of-the-art machinery is the pillars on which the global presence of our company stands. Multiple production units, all under one roof are currently based in Kolkata. ISP aims at delivering the best quality products at most competetive prices. Rather than tall claims, we let our popularity speak for our prowess.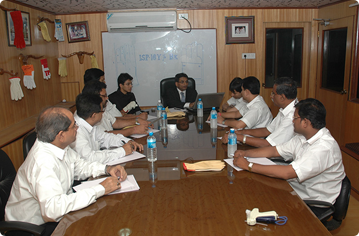 ISP Employees – Our Pride
We have been capable of manufacturing global quality safety gloves, leather products, and industrial garments with the aid of our technically competent employees. They ease the manufacturing process with input from manually implemented and documented technology. While crafting our leather goods, the critical procedures like raw material selection, tanning, measuring of leather, cutting through Hydraulic clickers, stitching, dehumidifying, ironing, foaming and packing through packing machine, are planned and controlled technically. This gives the assurance that the leather gloves and other leather products supplied by us, are the best in the industry.
Our staffs undergo training at frequent intervals to keep themselves updated with the latest trends regarding leather products. Utmost care is taken to use innovative techniques while producing a new product range. They leave no stone unturned in enhancing the technology used to produce quality leather products and this has helped us in creating a niche for ourselves in the leather export market.
Helping All With Customised Leather Products
Our products are generally exported to the biggest importers from European countries, Australia, South America, Middle East and many other major importers globally. Considering the requirements, we can customise our leather goods to suit individual needs. We understand the specific demand of the customers in leather quality and implement those changes to suit your needs. Each and every product is meant to meet specific industrial needs such as cuts, blows, chemical attacks or temperature changes.
ISP with its wider and customized range of safety gloves of more than 200 varieties and styles are crafted by keeping in mind the safety as well as durability. We have further expanded our production patterns to include other industrial and protective products (like cable cover, pillow, blankets, tool kits, etc.) that can meet other industrial needs. ISP with its ever enhancing zeal is always the forerunner when it comes to providing high-quality products and service to its consumers.